2009 Junior Champion of Champions (Nov 27)
Georgette Berry began singing at Our Lady of The River Catholic School in Berri as part of the year 5 school choir. This progressed to performing at the associated Catholic Church singing at school mass, reconciliation and confirmations etc. and the Riverland Choir Music Festival performances were she has solo's in years 5, 6 & 7.
Opportunities arose from this exposure and her first public singing performance was in 2005 at the Berri Lions Club changeover dinner. Georgette has subsequently been invited to perform at the Renmark Carols by Candlelight since.
In 2006 encouraged by family and friends she decided to exhibit her musical talents to a wider audience by entering a number of country music talent quests including Mildura, Port Pirie, Port Augusta, Tailem Bend and Barmera and has subsequently performed at each of these festivals annually. A number of placings were gained throughout these appearances.
Georgette was special guest at the Christmas function of 'Tombstone Country' in Teasdale west of Geelong in 2007. Georgette was a finalist in the 2007 & 2008 Victorian Champion of Champions and has again qualified for the 2009 championships by gaining a first and two second placing in all 3 categories at the 2008 St Arnaud Country Music Festival.
The Loxton Centenary Celebrations in late 2007 saw Georgette perform alongside such talented performers as Darren and Sarge Warner and led to appearance at the Loxton Carols by Candlelight.
Georgette appeared as a support act for Chooka Williams and Guido Davis at the Southern Country Music Club in February this year. She was also a support act for Des Morgan and Chooka Williams at a Royal Flying Doctor fundraiser at the Karoonda Town Hall in March 2009 and also one of the support acts that supported Tiffney Stroh at a fundraiser for the Victorian Bushfire appeal at the Murray Bridge Community Club in March this year.
She has been guest performer in 2007 & 2008 at the Renmark Rose Festival Concert at the Chaffey Theatre in Renmark.
Georgette has performed the Nation Anthem for 2007 & 2008 at the Riverland Football League Grand Final and will be doing so again for Riverland Football League Centenary celebration in May this year. A rousing solo performance was well received at the Berri Merry-Xmas street festivities at the end of last year and has also appeared at a number of clubs and private functions in the Riverland.
She also qualified to compete in the 2007 South Australian Champion of Champions and was a finalist in 2008 championships and was privileged to be awarded the Len Wakefield Memorial Trophy by the Adelaide Country Music Club.
A very successful 2008 Riverland Country Music Festival saw Georgette receive the much coveted 'Frank Harding Memorial' South Australian Award of Excellence.
Attendance at the 2009 Leafy Seadragon Festival at Yankalilla in April saw Georgette compete in and win her first senior female open section against some very talented opposition. (some pictures here)
The 2009 top of the Gulf Country Music Festival at Pt Augusta in April rewarded Georgette with a first place in the under 16 Gospel and the hard earnt title of Junior Entertainer of The Year for 2009 in a grand final performance with all other U16 first and second place getters from the weekend competition. (some pictures here)
These three awards stand high above the rest as her most rewarding achievements so far.
Her list of achievements is growing month by month along with her confidence and belief in her own ability to perform and "grow" with the music she loves so much.
At 16 years of age Georgette's long list of achievements and dedication is a credit to her.
Jo Berry (Georgette's mother)
Georgette can be contaced via her father Jon on 08 8582 3263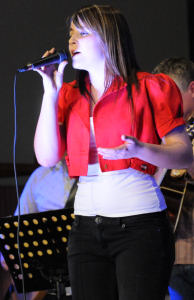 Georgette at the SACCM Champion of Champions July 2008 and with Wally Sparrow and Di Smith the same evening
check her out on