Bluegrass Junction
Bluegrass Junction is South Australia's premier bluegrass band. All of us have a lifetime's passion for old-fashioned hard-core three-chord bluegrass and three-part harmony. We don't do alt, roots, faux or pop-grass. We do Bill Monroe, Flatt & Scruggs, The Stanley Brothers, Jimmy Martin, Doyle Lawson, JD Crowe, Jim & Jesse - the classics - that high lonesome sound. No compromise.
The band is Trev Warner, Nick Cawthorne, Geoff Bridgland and Stephen Loss. When possible, John Bridgland joins us.
Trev is an original Adelaide bluegrass pioneer. He's a Hall of Fame inductee and three times Australian bluegrass banjo champion, and long-time bluegrass fiddle player.
Nick is one of Australia's finest bluegrass guitarists and singers. He drives a vintage Degruchy.
Geoff and John have been playing bluegrass since the '60's. Geoff plays banjo and fiddle, John plays mandolin and guitar.
And, we are very fortunate that Stephen Loss is with us, because his bass playing and singing is second to none. And, he's a fine mandolin and guitar player, too.
Bluegrass Junction was formed in 1997. However, the band goes back decades earlier. Trev, Nick, Geoff and John all have played bluegrass in various Adelaide band configurations for over 30 years. We have shared places in each other's groups before and after forming Bluegrass Junction in '97. The result is an almost intuitive understanding of each other's approach to playing and singing. We know where the music comes from. We know why we are playing it. We know what makes it work. We are veterans in the genre. And for good measure, we are the only local band regularly featuring twin-fiddle and twin mandolin instrumental numbers, acknowledging the traditional old-time country music that pre-dated bluegrass music.
See Bluegrass Junction soon. Book them for your next show now!
Contacts:
Trev Warner: 0419 814 251 or 08 8337 4200 or trevwarner44[at]gmail.com or Geoff Brigland on 08 8296 749
Trev Warner's website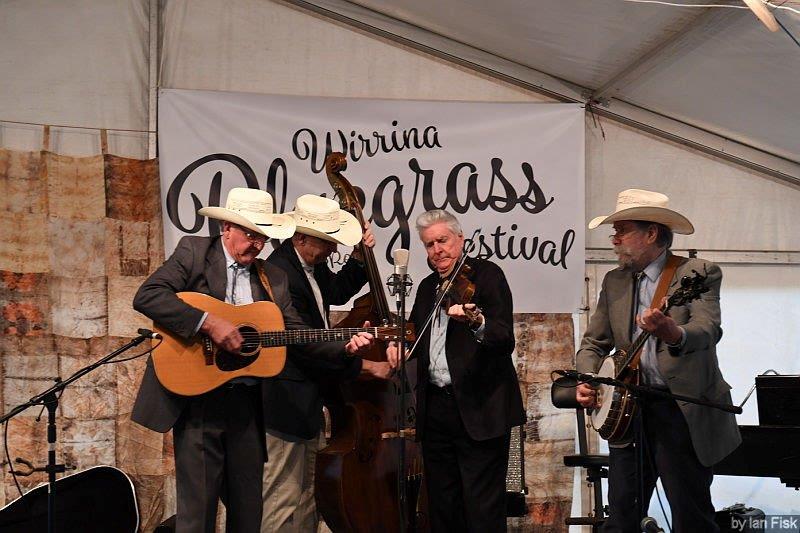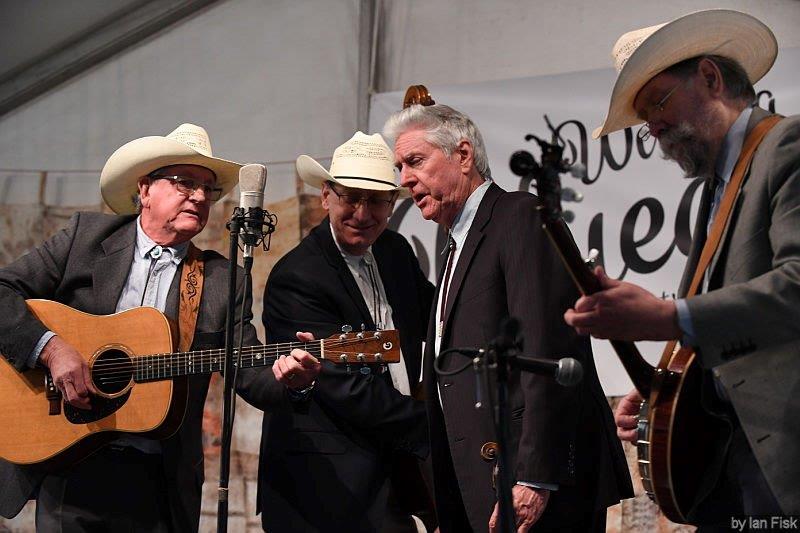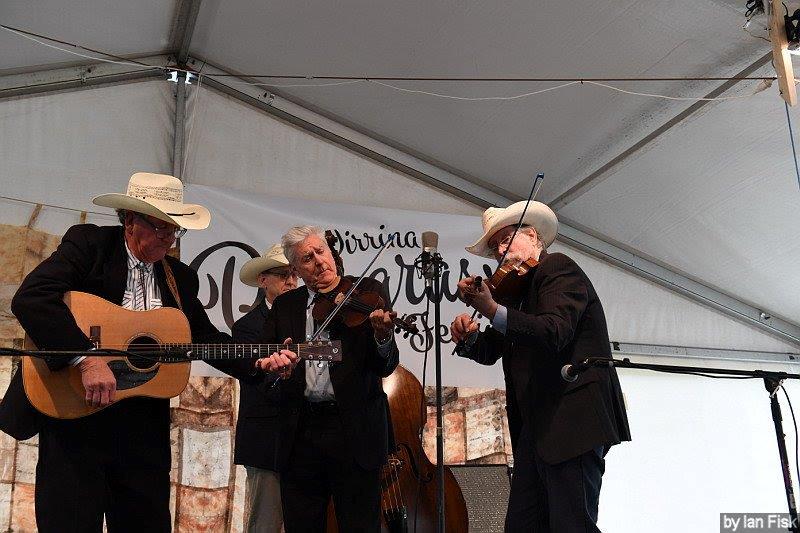 The above photos were taken at the Wirrina Bluegrass Festival 2017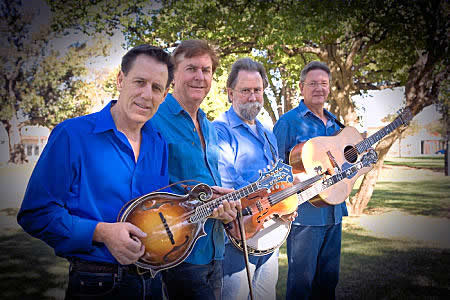 photo by Paul Thompson June 2008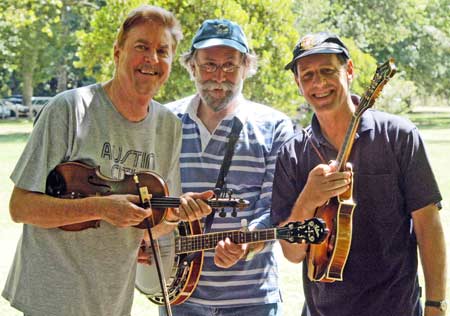 Trev, Geoff and John Taken Jan 1 2007 sent by John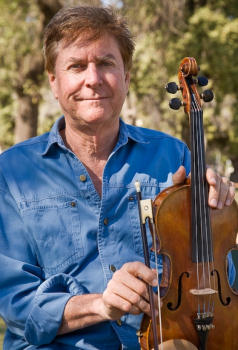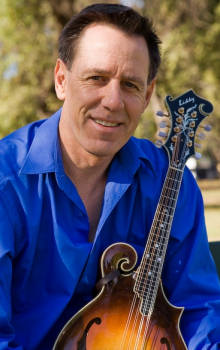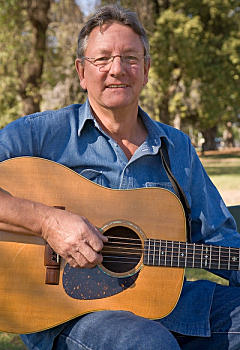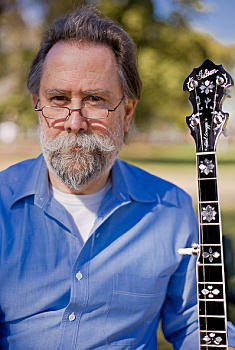 Trevor, John, Nick and Geoff pictures by Paul Thompson April 2008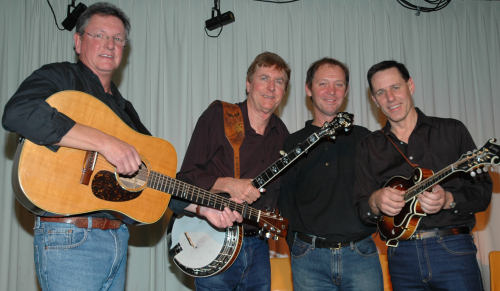 At Folk Centre May 27, 2006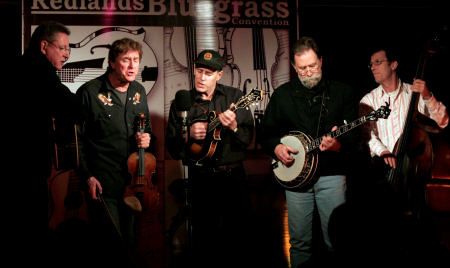 by Mary Brettell, Brisbane, at Redlands Bluegrass Convention, July, 2008 (photo by ?)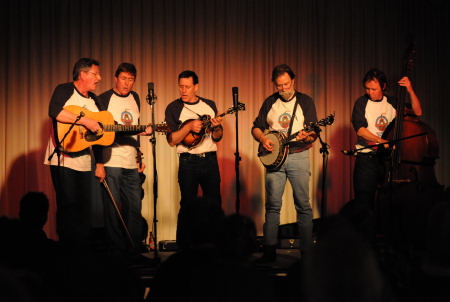 Bluegrass Junction at the SA Folk Centre 11th October 2008 - Nick, Trevor, John, Geoff, James


at the Folk Centre Oct 10, 2009 - Bass player Josh Verco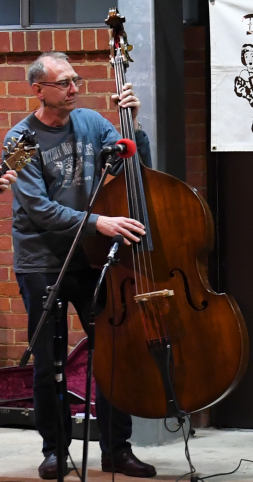 Stephen Loss joined the band in 2015/6 (photo taken at the Hillbilly Hoot Nov 2016)
unless noted otherwise, pictures by Ian Fisk
Home