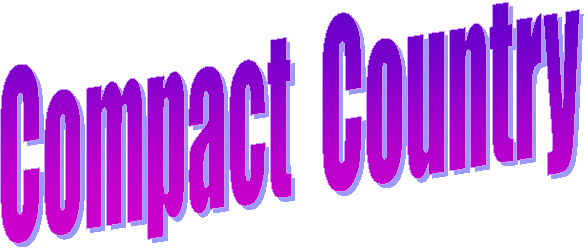 Classic Country Music Entertainment
With Songs And Music From Popular
Artists Such As,
Slim Dusty, George Jones,
Lee Kernaghan, Alan Jackson, John
Denver, Merle Haggard, Hank
Williams, and many more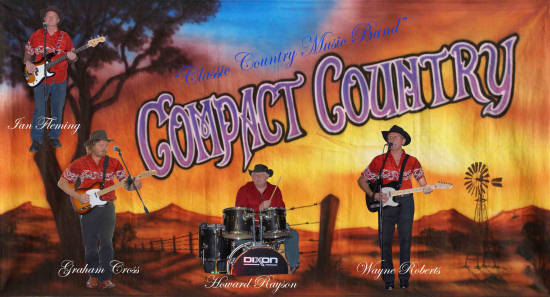 The Band
Wayne Roberts - Guitar and Vocals
Trevor Denton - Bass Guitar and Vocals Backed by,
Graham Cross - Lead Guitar
Howard Rayson - Drums

(all pictures by I Fisk except where noted)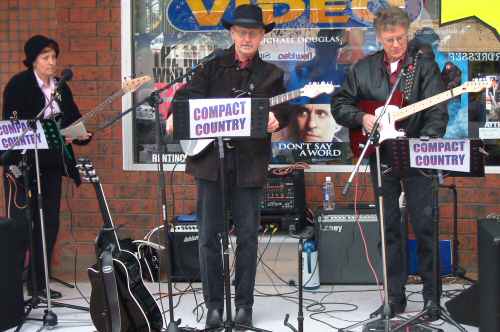 At Barmera 2002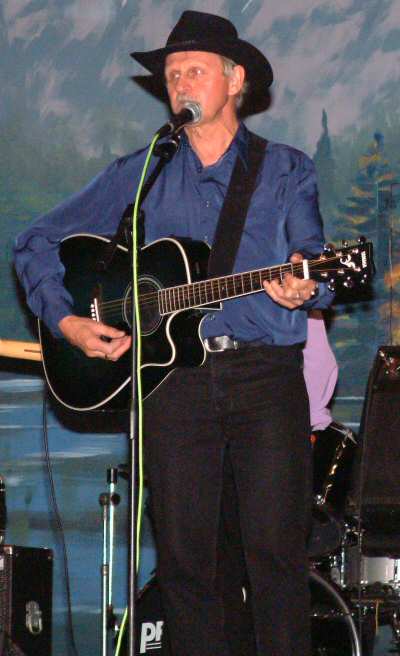 Wayne Roberts at Adelaide Country Music Club April 2004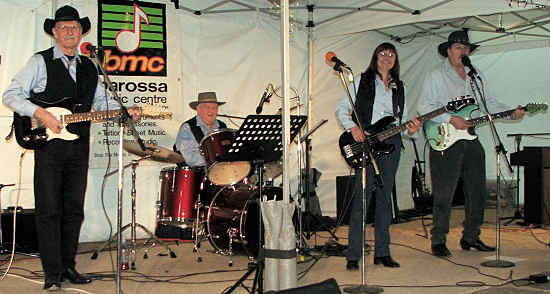 Wayne, Howard, Jan, Jay J
Compact Country at Kapunda Cancer Fundraiser June 2006
(picture by Frank Baker)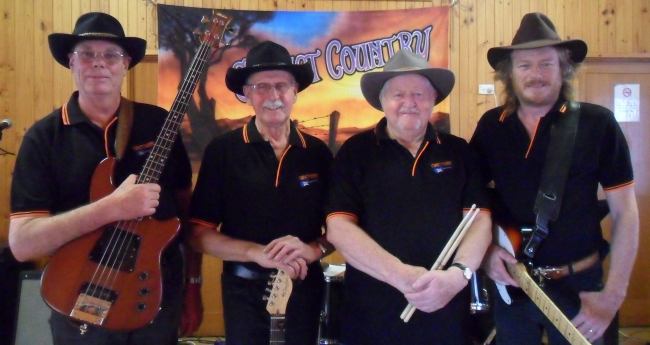 Trevor, Wayne, Howard and Graham - photo sent by Wayne Oct 2012
Compact Country Band
The band first appeared busking on the street of Barmera at the Riverland Country Music Festival in 2002 and shortly after began playing gigs at Hotels and RSL Clubs around Adelaide. This was soon followed up with bookings at some of the Country Music Clubs where they have had repeated bookings each year. The band has stabilized over the last two years and now has members with many years of experience between them and delivers Classic Country with excellent vocals and harmonies.
The Band members:
Wayne Roberts began in country music as a young teenager in the South East of South Aust, on a show called Western Round-up, but left country music behind while serving many years in the Air Force. Eventually discovering that country music was still alive and well and had rekindled the desire to play guitar and sing for lovers of country music.
Graham Cross - lead guitar and vocals
"Graham started off jamming with friends, one of which was Iain 'Cutty' Carlin of Southern Reign (vocals and rhythm Guitar), in the 1980's which sparked the band 'Southern Image'. After entering some talent quests, Graham was invited to play rhythm guitar in a country cabaret band, 'Bruno and Memphis'. From the Bluegrass set of this band, Graham went on to form a hot Bluegrass outfit with Dwayne Elix , called 'Honky Stomp'. When Dwayne departed for the bright lights of Sydney, Graham rekindled the old magic with Cutty and reached out for fresh pickers forming 'Customline'." from Southern Reign bio.
Trevor Denton - bass guitar - and vocals
Trevor has over 30 years experience playing Bass Guitar in Country bands, from backing Talent Quests in S.A. & Tamworth, to working with such names as Beccy Cole & Kym Warner. He has also backed artists such as Craig Giles, Jimmy Little, Brian Letton, Carol Sturtzel, Trev Warner and many more. His Country style of playing adds drive to the Classic Country sound of Compact Country.

Howard Rayson is the band's drummer and needs no introduction as he has been playing the drums in dance bands for over forty years. Howard is an excellent vocalist, having won several awards at the Riverland Festival, and is an original member of the popular band "The Starlights".
Contact number is 0407 396 405
Email: -robertsw@bigpond.com