This duet was formed back in 1999 and comprises of
REG MEFFERT........... Guitars and Vocals
HEATHER SMITH .. .. Keyboard, Vocals and Harmony
Reg and Heather are leaving the State around Sept/Oct and thank everyone for their past support. "We will let everyone know where we settle but plan to stay on the road in Rosie bus for some time music touring. With plenty of shows in Victoria/ NSW already arranged it could be a long tour. Any last shows you better be quick. The last show scheduled in SA is at the Greenoch Tavern 13th September 2008."
Reg is a Vietnam Veteran who played in a few bands over the years but nothing too serious. Was busy recording his first album
'Vietnam in Focus'. The pair met each other in an internet music room where Heather went on a regular basis to 'try her songs out on the yanks' Reg too went on for a sing-song now and again.
Reg is a full writer member of APRA and has many a good tune waiting to be put on CD.
Having formed the duo the pair went on to become a couple and have been busy with the music ever since.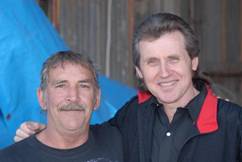 Reg was honored by Craig Giles (Mr. Versatile) who re-recorded the first track off his album called 'Picture on the Mantel' which has made the top 5 in the contemporary section Tamworth 2008.
Heather is from New Zealand and has lived in Australia since 1994, where she has gained her APRA Writers certificate and has many songs to her credit, two of her songs can be found on their last CD. Heather plays 6 and 12 string guitar as well as Keyboard and loves to be around musicians to learn more. Her passion for music is let loose at a show with her high energy performance. She also creates the bands sound with the help of the instruments on keyboard, so the band is live with a full sound. Heather also records and engineers, produces and does the art work for the CD's, so is kept fairly busy.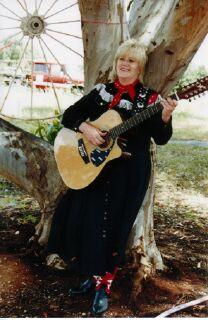 CROSS COUNTRY duo has two CD's to their name ………. ON THE BORDER…….. BEYOND THE BORDER
Cross Country has been support act for many a great Artist such as Brian Cadd, Diana Lee, Bev Harrell and Dwight Adams just to drop a few names. Have made some wonderful friends Musicians and fans and have had the privilege of playing at venues with some leading Artists, Craig Giles, Freddy Bowen Graeme Hugo, Heartland, and Creole Cowboyz the list goes on and on. A big complement was given to Heather at Pt Pirie 2007 when a gorgeous young man came up and told her she had a beautiful voice, she thanked him only to find out later that the young man was The Voice himself, John Stephan. Lucky she didn't know at the time.
Cross Country will also do a comedy floor show where asked called MA & PA, Their antics on stage are hilarious to say the least. It is Adult humor done discreetly as to go over the heads of children and those who have lead a sheltered life.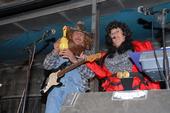 Cross country have a 40 foot AEC Bus called Rosie that has a signed artists ceiling that is worth a look, if you ask nicely they just might let you have a look Accommodation is never a problem and the Welcome Mat is always well used.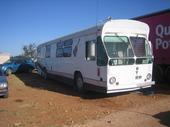 CROSS COUNTRY are available from 2 piece duo to a 5/6 piece band
Also affordable, on time and will go that extra mile. Weddings, Hotels ,clubs, private functions all catered for and the band also help raise money for The flying Doctor service and The cancer foundation.
The band can be reached on
Ph 8520-3816 or Mobile 0412 230 356
Email: ccband@bigpond.com
Also check out their MySpace site
Thanks for your interest in THE CROSS COUNTRY BAND
Hope we can do a show for YOU one day SOON