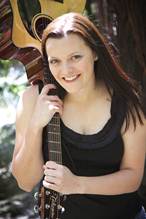 Angela Easson is an accomplished performer dedicated to reaching her highest potential in the country music industry.

A 2011 Toyota Star Maker finalist, she has also been crowned the international winner of the 2010 Trans Tasman Entertainer of the Year award in Norfolk Island. She is a 2010 graduate of the CMAA Country Music Academy and winner of the 2009 South Australian Senior Champion of Champions.

Angela began singing at the age of 10 when she fell in love with country music after attending her first country music event in Mount Gambier. She moved to Adelaide in 1997 to further her music career.

Throughout her career, Angela has worked with many South Australian musicians, branching into different genres including pop, jazz and blues. She is also an active member in the community, including the lead vocalist for the Onkaparinga Big Band.

Her songwriting talents were recognised in 2010 after winning the South Australian APRA Modern Country Song of The Year and being awarded the South Australian APRA Overall Country Song of The Year with her song "Forget to Forget You".

She released her debut EP in July 2011 and is set to release her first single later. She is certainly on the right track to becoming a highly accomplished singer/songwriter in the Australian country music industry.
www.angelaeasson.com or her band Crazy Train
for bookings and information contact:
info@angelaeasson.com 0429 027 691