ROCKIN DALLY ROO'S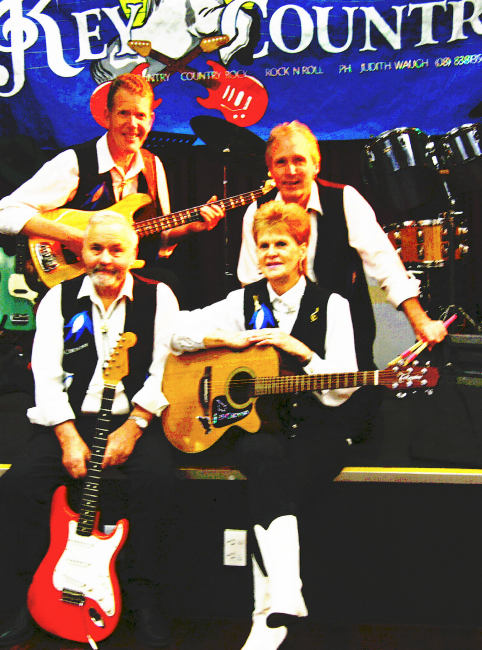 Celebrating, 29 years in the country music industry in 2017.
The band is very versatile, and performs country & country rock, rock n roll and also original material & many modern classics &including well known instrumentals.

The band is a fun lively band, engaging the audience & can adapt to suit all functions from small party groups, country music clubs & events, as well as birthdays to large corporate shows.
They travel widely are covered for public liability insurance, and registered for GST, they supply own pa lighting are able to cater to all types of functions.

They have represented South Australia & the city of Marion in Tokyo, Japan in 1995, 1997 as part of our sister city relationship.
they have won many awards &accolades.
They have appeared at the Alice Springs country music awards, Tamworth country music festival (16 years), Barmera S A country music festival, (28 years)Western Australian country music awards, Miss Australia awards functions,& many other interstate festival events.
The band has also donated performance time to helping many charities, and community organizations.

Judith Waugh was awarded the Adelaide Country Music Club Industry Award in 1995 & inducted into the Barmera country music hall of fame in June 2000 for her services to country music.
Judith was also appointed patron of the Southern country music club Adelaide in 2014.

The band is a four piece, is well known Australia wide appearing at many festivals, concerts & corporate functions.
The band members are, Graeme Waugh, on lead guitar,
Judith Waugh, rhythm guitar lead vocals, Doug Martyn on drums
Rob Herz, on bass guitar.

Prices are reasonable, according to travel & event.
CDS are on sale at events, band bookings & inquiries to Judith Waugh,

phone 08 8381 3563 mobile 0418 807 445 Judith Waugh.