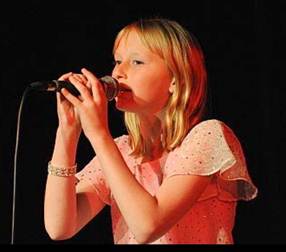 Breanna Lee Kinlough
Country Music Singer
Breannaleekinlough@hotmail.com
Ph: 0400 333 575
Bringing to the stage emotive performances, great depth of expression and a wonderful stage presence, Breanna Lee Kinlough captivates her audiences at just twelve years old.
With just two years singing up her sleeve, Breanna Lee has grown in leaps and bounds in the South Australian Country Music Industry. Her first competitions at the Leafy Sea Dragon Festival and Barmera Country Music Festival gained her a position in the 2009 South Australian Champion of Champions. At these awards, Breanna Lee was announced a top three finalist in the Under 13 Champion of Champions and was also extremely happy and honoured to be presented with the Len Wakefield Memorial Award by the Adelaide Country Music Club.
In the past twelve months, Breanna Lee has been awarded the 2010 Under 13 Champion of Champions by the South Australian Council for Country Music, and also received the Rising Star Award, a recognition to young aspiring artists initiated by Maurie Huxley. These awards are attributed to her attending other festivals throughout the year and taking out awards such as: 1st Place, Under 13 Vocal (Barmera CMF); 1st Place, 17 & Under Gospel (Murraylands MF); and 1st Place, Under 13 Vocal (Murraylands MF).
During 2010 Breanna Lee also made an effort to perform at many country music clubs and various charity events and was also the youngest participant in an intimate songwriting workshop hosted by Felicity Urquhart and Trev Warner at the SA Folk Centre.
Breanna Lee is a dedicated singer, practicing regularly and is currently being tutored by Daniela Scala, who has been most influential, encouraging Breanna to take risks, put her own "stamp" on a song and to bring her emotions to the stage.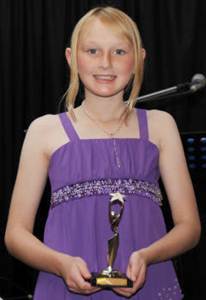 Breanna Lee's goals for 2011 include developing her stage performance and voice techniques, writing/recording songs at DS studios, competing at various events and finding a duo partner who enjoys singing as much as she does.
There are many people who have contributed to Breanna Lee's music and shown her great support since she commenced singing in 2009. Special thanks to Daniela Scala, for her positive encouragement, Candy Latham for providing vocal lessons and considerable support when needed, Tamarra Wellman for her ongoing encouragement and Lowbake Australia for supporting young talent through their major sponsorship in 2011. Thanks also to Jay, The Sherrah's, The Stewarts, and The O'Briens who have contributed and shown great support since she commenced singing in 2009. (Photos by Ian Fisk)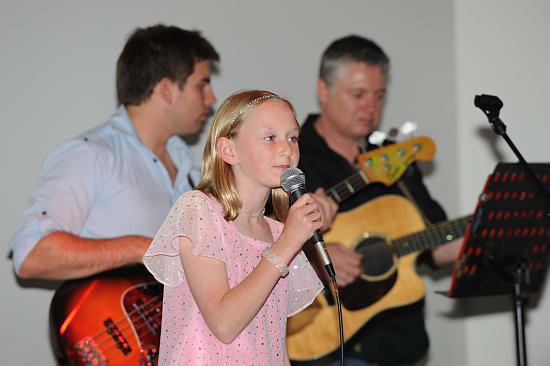 At SACCM 2009 Champion of Champions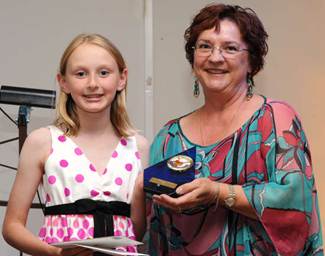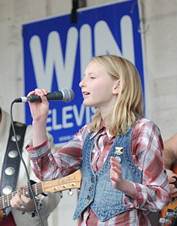 Being presented with the Len Wakefield Memorial Award by Di Smith, Adelaide Country Music Club at the SACCM

Champion of Champions Nov 2009


Breanna Lee Kinlough is sponsored by