Mallee Blue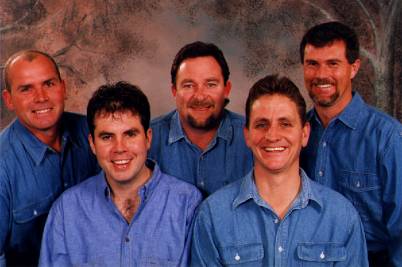 SOUTH AUSTRALIAN SHOWCASE BAND
Mallee Blue played their last gig at Murraylands Festival 2007.
"One of the most exciting and original Australian country bands to hit the scene in a long time is Mallee Blue from Murray Bridge". - S.A. Arts Council.
Mallee Blue was formed bringing together the talents of Noel Kneebone, Darren Gurney, Brenton Ahrns, Anthony Hodgen and Neil Chapman in a combination that has won numerous awards throughout South Australia, including the Frank Harding Memorial Trophy for Excellence.
In 2005 Noel was inducted into the Rocky Page Hall of Fame at Barmera, he was also awarded the Industry Award by the Adelaide Country Music Club.
Proudly South Australian, this refreshing band specialises in Australian country and contains the song writing talents to present much of their own material, as well as delivering onstage antics that endear them to young and old alike.
Mallee Blue launched their debut CD, "Mallee Blue", in 1998 where it shot to the top of the SAMIA/SAFM South Australian Music charts, the first time ever a Country band has done so!
Mallee Blue is now featured on the world released 1999 Compilation CD of South Australian talent.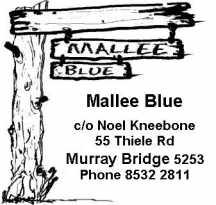 Mallee Blue received 5 nominations in the 1999 SAMI Awards, including "Most Outstanding CD release" and "Most Outstanding Band". This included all genres!
Mallee Blue is an excellent promotion of Australian Country Rock at its best.
This Original Australian Country Rock band is equally proficient, performing as a special guest in concert style, through to their 4 hour cabaret shows.
The band performs a large range of songs in Country, Contemporary Australian, Country Rock and Old/New Rock and Roll.
Please contact us if you want to know more.
We'll send you a promotional package on request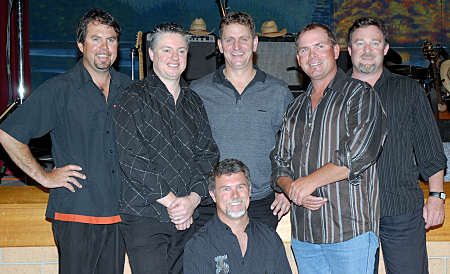 At Adelaide Country Music Club Nov 2006