Tricia Wilson & Midnight
Mountain Blue
Tricia Wilson has had a passion for singing country music since the age of 12 and began her professional singing career at the tender age of 15. In 1983 Tricia won the SA Great Country Music Awards and as a result, went to Tamworth to represent South Australia in the Australasian Country Music Titles. Tricia achieved a very creditable 'runner up' in the Best Female Vocalist competition.
Since this time Tricia has appeared throughout Australia and travelled extensively interstate. She has appeared with many well known country music identities such as Jimmy Little, Ted Egan, Reg Lindsay, Craig Giles, Felicity, The Beggs Brothers and Barry Thornton, her most exciting achievement was the opening act for the Rock Trio Cotton, Burns and Morris at Adelaide Festival Theatre in 2001.
In 1998 Tricia's most creditable recognition was being the featured artist on ABC Radio's Friday Night Live in Concert across Australia, In 2001 Tricia appeared on channel 7's AM Adelaide and with the overall response was asked back several occasions.
Tricia has built up a considerable personal following, earning a reputation as the "Little Lady with the Big Voice", and once you hear her sing you will be left in no doubt as to why.
Midnight Mountain Blue have been playing together for 18 years and have appeared with Tricia throughout this period. The band has earned a reputation for outstanding musicianship and has won awards in its own right including "Best Band Award" at the 'SA Great' Country Music Festival.
Tricia and Midnight Mountain Blue have headlined many country music festivals throughout SA, NT and NSW. Their most recent achievement was being chosen to support Lee Kernaghan on his 'Australian Pass the hat around' tour.
With a variety of music spanning Country Classics, Country Rock and good old Rock and Roll, the band know they have a song for every taste in music.
In 2006 Trish Wilson was inducted into the South Australian Country Music Hall of Fame at Barmera.
Midnight Mountain Blue are:
| | |
| --- | --- |
| Barry Wilson | Drums |
| Bob List | Steel Guitar |
| Bob Charman | Bass Guitar and Vocals |
| Leon Hall | Vocals and Rhythm Guitar |
| Darrell Thompson | Lead Guitar |
Sadly Bob List passed away in July 2009.
Tricia and the band look forward to entertaining you soon.
Telephone:
| | | | |
| --- | --- | --- | --- |
| Tricia/Barry | 08 8524 8100 | Mobile | 0407 998 320 |
| Bob Charman | 08 8528 2098 | | |
| | | | |
| --- | --- | --- | --- |
| | | | |
| Trish Wilson | Bob Charman | Bob List | Whole Group |
Click any of the above for larger versions of the pictures.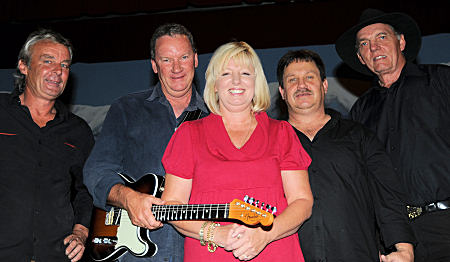 Leon, Darrrel, Trish, Barry and Bob at ACMC April 2009 Photo by I Fisk