2009 Rocky Page Memorial Scholarship Winner" & CMAA 2009 college graduate.
TAMWORTH 2007 RESULTS
Tracey Rains & Nathaniel O'Brien (Two Blue), received 1st in the Open Duets section in CCMA Tamworth. Tracey also took out all 5 section at the Manilla Country Music Festival(40km from Tamworth), & The Overall Winner @ Manilla.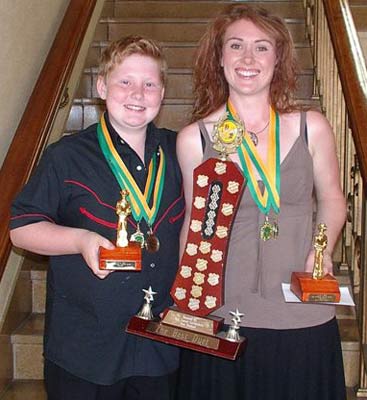 Nathaniel O'Brien and sister Tracey Rains with some awards mentioned above
(picture from their Mother Karen!)
17TH AUGUST 1978
Hi everyone!
Thank you for stopping by to take a look at my bio and get to know me a bit better.
I am from a family of singers, both my mother and father sing and run a successful karaoke business. My brother is "Nathaniel O'Brien" a lot of you may know him, he is the current 2007 Under 13yrs SA. Champion, he also won it in 2006. I have a sister, Michelle, who also sings. My Grandmother sang in the "Blue birds" Choir, and there are to many relatives who are musical to mention. I started singing from the time I could make a sound so Mum says, it drove her insane. I have always followed music and have gone in many musicals, sang with local bands and competed. I met my lovely husband Chris, at an early age and shortly after we started a family, we have been blessed with Four beautiful Children, two boys, and two girls, rather complete I think, they all tell me they want to be singers and musicians like me which I think is fantastic! I have even managed to coax my husband into learning bass. Whilst having my family music was put on hold for a while, it was very difficult as I have lived and breathed music my whole life. My family are growing up now and it has been recently that I have dedicated myself to performing again. I am very lucky as I have a huge support base from my Husband and kids and also my Parents and Friends. Since getting back into it I have Won and placed at every festival and competition entered. I have performed at festivals as a guest, Clubs, Weddings, Birthday's, Funerals, Church, Charity fund raiser's, as a guest with Graeme Hugo, Adam Harvey, Lake Charlegrark Music marathon, Pt Lincoln Toyota Music Muster, Blanchtown, The Stock Journal at the Festival Theatre, Bundaleer Forrest, and many more.
In 2007, I Won the Duo section in the CCMA competition in Tamworth under the name of "Two Blues" with my brother. I was also a finalist in all other sections. I entered the Manilla competition and Won all five sections and then went on to win the "Overall". This has just cemented my stand in Country Music even more and really encouraged me to push to the top. In January 2007 I was also approached by Graeme Hugo to become is lead female vocalist, which I accepted and have enjoyed immensely. I have learn t and continue to learn guitar with Greg Bunnett so I can accompany myself. I am a proficient guitarist and am also great at the tambourine, I can play basic piano and read notation well, I also understand chord construction, eg: minors, majors, 7th's, 9th's etc, and am able to chart up a song. I am a confident Vocalist with a Pretty BIG range and have beautiful rounded high notes. I am able to sing styles from Traditional Country to Contemporary Rock, Gospel, Blues, Soul, Motown and Pop Ballads. I can do harmonies well and enjoy them. I have written many lyrics and have put some to music, I would like to do more of this. I am a dedicated performer and am meticulous about good presentation. I am in Country music for the long haul and am determined to go all the way to become the next "Best Female Artist". I thank all of you who support me and encourage those of you who haven't seen me yet to do so, you wont be disappointed.
For cd sales or bookings contact:
mobile: 0429 866 769
email: ctrains@bigpond.com
www.myspace.com/traceyrains07
KEEP WATCHING THIS SPOT FOR MY NEW BAND'S DEBUT