RENEGADES
A 2010 line up is:-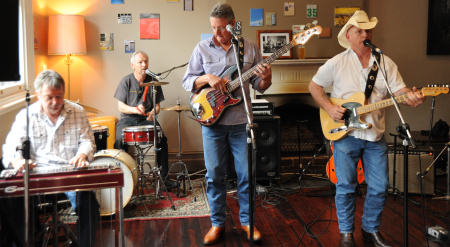 The Renegades at the Brunswick Hotel
Kevin Bergen pedal steel guitar, Tom Stehlik drums and vocals - Nick Cawthorne bass and vocals - and Terry O'Riley guitar and vocals
BJ Barker also drums for the Renegades (plus for the Huckleberry Swedes and in Kasey Chambers Band
A four piece Hard Core Country Band...Influences : Merle Haggard, Buck Owens, Don Rich, Johnny Cash, Lefty Frizzell, Hank Williams, Ray Price, Marty Stuart, Dale Watson, Dwight Yoakam, Redd Volkaert, BR549 and all them "Hillbilly Honky Tonkers"!
On Facebook
Terry O'Riley can be contacted on 08 8231-9255 or 0407 853 653
Below is the line up in the early 2000s.
Here is a country band capable of blending a program together that consists of both modern and traditional music. It numbers five members who are musically very good and with lots of experience to entertain you.
Travis List who is the lead singer and plays acoustic guitar heads the band and is ably supported by:
Terry O'Riley...lead guitar, harmony vocals and is the band's musical director.
Paul O'Brien...pedal steel guitar, lead guitar and mandolin.
Doc Sheedy ...bass guitar and harmony vocals.
Phil McInerney ...percussion and drums.
The Renegades have performed at the majority of country music events within South Australia. Apart from headlining tonight's show, their major gig would have to be being the support band for Kasey Chambers at Wirulla, SA. This was an official 'Year of the Outback' event which drew in excess of 4,00 people who saw the Renegades perform before and after Kasey Chambers performance.
The band has delved into corporate gigs such as the '4 Wheel Drive & Off-Road Show' and the 'Adelaide Parklands 2002', to name a few. The future looks good for this talented band, for they are going to appear at the Carrieton Rodeo on December 28th and will be at Tamworth in 2003.