The Rustlers burst onto the scene with the release of their "Broken Pieces" album, launched at the Barmera Country Music Festival in June 2001.
It has since been re-badged and re-released in the United States in May 2006.
As well as regular performances at Barmera, The Rustlers have appeared at numerous festivals including Port Pirie (with Troy Cassar-Daley),
the Murraylands Festival at Tailem Bend and closing the SA Showcase in Tamworth NSW in early 2003.

Other appearances include:
Live television performance on Channel Seven Adelaide
Playing to over 100,000 people during the 2004 and 2007 Royal Adelaide Show
Regular support for Australian music legends Cotton, Keays and Morris at their Adelaide performances
Playing to an audience of 40,000 people at the Clipsal 500 After Race Concert in both 2006 and 2007
2006 South Australian Council for Country Music Showcase, Norwood Town Hall
Birdwood Country Music Bash 2006 with James Blundell
Australia Day Eve National Motor Museum Birdwood
Toyota Muster Gympie, Queensland, August 2007
Premier Mike Rann's 2007 Awards Evening
Supporting six-time Grammy Award winner Jose Feliciano, April 2008
The Rustlers continue to hone their performance and song-writing skills and comprise the following members:
Gary Burrows - vocals / rhythm guitar / songwriting
John Murphy - lead guitar / vocals / songwriting
Garry Cailes - drums / percussion / vocals
Derek Manning - bass guitar / harmonica / vocals
Not since the early sixties have such songs been penned - sing-along lyrics, catchy riffs, raucous harmonies and unforgettable melodies.
The songs can soar with the energy of a wild stallion or steal your heart away with their raw honesty.
The Rustlers proved this again in June 2006 with their second album, "Sad Dark Lies" a batch of fourteen original new songs, just as exciting as their first offering.
In 2008 a completely new collection of songs have been written and recorded and the third album "Leavin' Me" is now available

Official website: www.therustlers.com.au
MySpace: www.myspace.com/therustlers
Facebook: www.facebook.com Search for "The Rustlers"

Contact: The Rustlers PO Box 577 Enfield Plaza SA 5085 Australia
Email: therustlers@mail.com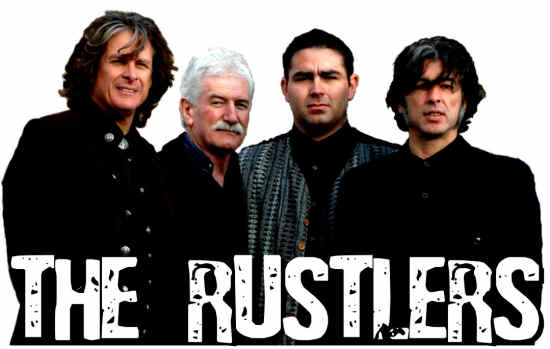 Gary, Derek, Garry and John