Andrew Sellars
SACCM Junior Champion of Champions 1999
Victoria Mildura Junior Champion of Champions1999

Andrew is a multi talented singer song writer, guitarist and performer.

Andrew has been writing song since he was nine, playing guitar since he was seven and started playing in country bands at thirteen in Whyalla.

Andrew was awarded for his love of song writing by winning Barmera's open song writing section in 1999 at the tender age of fourteen, the youngest contestant to win this section.

Since he has been competing on the country music competition circuit all over Australia he has amassed too many awards to mention.
For example, he has been Port Augusta's overall winner five years in a row and Entertainer of the Year three years in a row.

This year Andrew was invited to attend the first mini training college "Camerata" in Tamworth. He enjoyed the experience immensly and loved mixing and trading ideas with other talented kids. Not only did he impress everybody with his vocal and performing ability, Fender representatives were impressed with his unique style of guitar playing and invited him to appear on the prestiguous Fender Jam Show Tamworth 03.

Andrew astounds people with his talent where ever he performs and has been awarded for his hard work and dedication by being invited on the SACCM Show Case for the fourth time.
Andrew can be contacted on Home 8353 2403, Mobile 0413 279 420
or via Barry Sellars at 0409 815 551
or Email thesellars@ozemail.com.au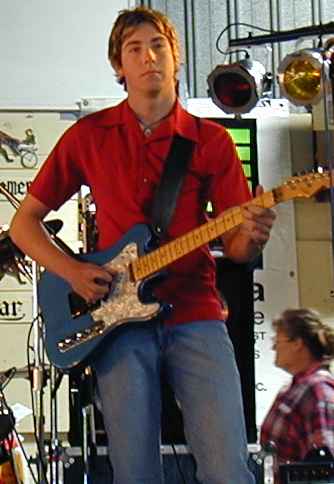 Andrew at Kapunda 2001