2017 Update
Sadly Wally passed away on Monday Nov 20 2017
See a tribute here.
Note the cause of death is yet to be established. Check the Advertiser for the Funeral Notice. Note death and funeral notices are in the Nov 29th edition.
Tammy Wellman advised on 28 Nov 'Please help celebrate the life of the late Wally Sparrow at 12.30pm on Tuesday 5th December at Heysen Chapel, Centennial Park, Pasadena SA'
A few hundred photos of Wally can be found here, most are by Ian Fisk, but there are some in the collection from the late Frankie Baker and some from the Collins' famiy. A few photos taken at the funeral were added later.
Fred Payne and Tammy Wellman produced a tribute show on Radio Adelaide on Nov 25th. For a few weeks it can be listened to here from Radio Adelaide Site
Audio of the Dec 5, 2017 Funeral (recorded on a Samsung Note 8) is here sorry about the quality!
Jan 20 2008
Categories: Media Releases (from the Official website of the Tamworth Country Music Festival)
Date: Jan 20, 2008
Title: Six More For Hands Of Fame
Six more famous country music hands are to be immortalised in concrete in Country Music Capital's Hands of Fame.
Mick Antonio, Kevin Knapp, Karen Lynne, Jim Muir, Wally Sparrow and Warren H Williams were announced as the 2008 inductees at the annual Roll of Renown Concert in the Tamworth Town Hall on January 19.

"Wally Sparrow has been a tirelesss worker for country music in Australia, and particularly South Australia, for almost 50 years. During this time, he has worked as a songwriter, singer, recording artist, promoter, broadcaster and with the industry organisation SACCM (South Australian Council for Country Music). Concentrating more on broadcasting in recent years, last year, Wally was presented with the Favourite Presenter for 2007 award at the recent Radio Adelaide Awards from his "Country Brekky" program on Radio Adelaide."
The full Press release here
January 2007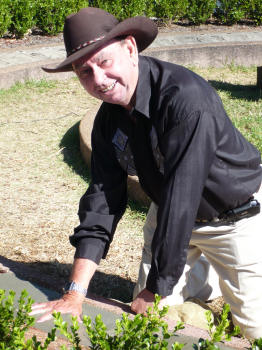 Picture from Trish Collins
Forty-five years in the industry as an entertainer, singer, musician, comedian, songwriter, compere, producer, journalist, adjudicator and trainer. I have over that time performed all around Australia, the USA, Canada, Fiji, Japan and on cruise ships.
I am now an honorary member of the Musicians Union after forty years service.
I have recorded three albums.
I have been writing on country music for fifteen years and also reporting to radio for fourteen years. This involved a regular weekly column on country music in the SA Stock Journal for twelve years and regular contributions to Capital News and other publications. I write the SA news columns for the Independent Country Music Bulletin and Country Roundup. At one stage I was writing over 100,000 words a year.
I reported on the latest industry news weekly to Dave Prior's Coast to Coast program for twelve years. This program was broadcast out of 2UE and at one stage was picked up by 30 stations around Australia. I presented a program of country music once a fortnight on the ABC for a period of time and have been a regular guest on ABC, Coast FM, Hot FM Mildura, 4TTT in Townsville and 101.5 FM in Brisbane.
I am I believe the only Tennessee Ambassador of Goodwill in Australia. I was commissioned by the Governor of Tennessee, after my first tour of the area in 1997. During that visit I was involved in a lot of media work and also worked with schoolchildren in Alabama and Tennessee. I visited the area as a special guest of the American people.
As a result of my visit to Ohio the Musicians Union formed a group that started off the Ohio Country Music Alliance, which is based on the SA Council for Country Music.
I was on the steering committee of the SA Council for Country Music. I then served as secretary and CEO over a ten-year period. I served on the Board for many years and wrote their newsletter – Prelude. In 2007 I will be writing a monthly column for Prelude and doing record reviews.
In 2001 I was presented with the SACCM Industry Award for my efforts in helping to develop the industry in this state.
The minister for the Arts in SA appointed me to the steering committee and then the Board of Music House in Adelaide. The minister also appointed me to a selection group to administer the Cindy Shelton Memorial Camerata Scholarship, which the SA Government sponsored for four years.
I was an ARIA judge for five years and CMT for 1 year. I have been a Golden Guitar judge for ten years and I judge a multitude of other talent quests in SA and Victoria. I also judge the Queensland Champion of Champions in Brisbane.
I introduced the Champion of Champions concept to SA..
I have over the years spent a lot of time working with young artists helping them hone their skills and using my industry contacts to help them forge their careers.
I am a professional member of the Country Music Association of Australia and the state representative for the Tamworth Songwriters Association. I am a full writer member of APRA. I am an honorary member of the Alabama and Mussel Shoals Songwriters Associations.
I have been awarded industry awards from almost every group and club in SA and I am in the Country Music Hall of Fame at Barmera.
In January 2005 I was asked to take over a country music program at Radio Adelaide. I did this starting in February 2005. I have more than 500 hours of broadcasting time up now on that program, which is attracting quite a large listener audience. Every week we do a major interview and over the last two years we have interviewed almost every major act in the industry. I am currently organizing interviews with overseas acts.
In my real life I am a semi retired salesman and journalist. I have a degree in agriculture and have had considerable training in marketing. I worked all of my life in the agricultural chemical industry in sales and research and development. Over the last fifteen years I became a horticultural specialist and I still write a monthly column for Rural Press on this subject. I was in my last position for twenty years and during that time I was awarded several special performance awards.
My hobbies include music, fishing, watching movies, travelling and photography.
Wally Sparrow
PO Box 45
O'Halloran Hill SA 5158
0419 591 894