Stewart James      <![if !vml]>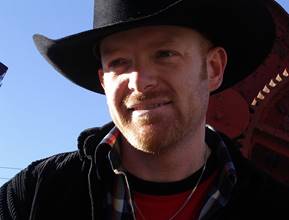 <![endif]>
Beginnings: Stewart has been involved with music one way or another for most of his life. His earliest musical recollections are of listening to western yodellers, Jim Reeves, The Beatles and the Moog synthesizer (thanks to his parents' eclectic record collection). He grew up in a musical family and they spent many hours playing music together. Also, he has strong gospel music roots, having sung in church bands for many years. All this provided a rich musical heritage which contributed significantly to his musical style and vocal technique. 
Training and development: Stewart studied music at school when young, and also sang in school and church musicals and various groups and ensembles. He studied subjects at Cert IV and Diploma level in Commercial Music Performance at TAFE SA, where he achieved excellent grades. He has also taught voice lessons, and plays several instruments including piano and guitar.
Performance history: Stewart honed his vocal skills singing anything from sublime jazz to country, soul to pop. He has performed in a diverse range of ensembles over the years including jazz groups and fun rock-cabaret bands, as well as singing in numerous choirs and doing a number of solo performances. Regular singing in church bands has been a significant part of his musical experience. Also, he has been involved in numerous community and church events such as community carols, and other special events and fundraisers in the Adelaide hills and beyond. Stewart has made appearances in country music festival competitions and has done various guest spots and performed at local venues.
Venues performed at – past and present – include:
♦ Festival Theatre Piano Bar                       ♦ Stag Hotel                                                  ♦ Limbo Nightclub          
♦ Bonney Theatre                                         ♦ Northern Festival Theatre (Pt. Pirie)               ♦ Le Rox Nightclub
♦ Hahndorf Inn                                              ♦ Tamworth Town Hall                               ♦ Toucan Nightclub        
♦ Coca-Cola Stage (in Tamworth)              ♦ Barmera-Monash Football Club             
Music Festivals: Along the way Stewart has competed in and performed at regional and national country music festivals and competitions in order to gain exposure and refine his act in this genre. He met with considerable success, helping to confirm his abilities as a performer. Wins include:
♦ 7 first place wins          ♦ 1 Senior overall winner              ♦ A finalist in SA Champion of Champions 2005
♦ 8 second place wins     ♦ 1 Festival overall winner            ♦ A finalist in Victorian Champion of Champions 2005
♦ 4 third place wins         ♦ A grand finalist in Aristocrat Entertainer of the Year, Blazes Showroom, Tamworth 2006 
Current focus: Stewart is focused on pursuing country music, performing every opportunity he can. Although recognised mainly as a vocalist, Stewart has also been refining his song writing skills, introducing some of his original songs during his performances. He often performs in acoustic solo mode but also loves singing with a band.
Future: Stewart is continuing to perform his brand of country music. He plans to keep making appearances as an artist and to become more established in the industry. He would welcome opportunities and invitations to perform at festivals, clubs, pubs and events. Stewart plans to release a CD in the future and to continue performing live. 
Booking details: 
Stewart James
0403 945 214
PO Box 251 Nairne SA 5252