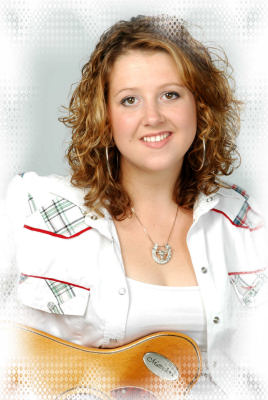 Biography…….
Tiffney Louise Stroh was born in Albury NSW in May 1990 and moving to South Australia with her family not only proved a lifestyle change but also gave Tiffney the opportunity to pursue a career in the music industry.
Tiffney is one of the most recognized and in-demand young performers and continues to make her mark within the music industry. With her sights firmly set on a national and international career as a professional singer-songwriter Tiffney has traveled thousands of miles throughout SA & interstate from Qld, NSW to southern Victoria, Darwin and everything in between, amassing along the way an amazing amount of awards and recognition for her hard work and commitment.
A three (3) time graduate of the Tamworth Camerata School for young artists, a Telstra Road to Tamworth finalist and a graduate of the Country Music Association of Australia's College of Country Music has assisted Tiffney in gaining the Industry knowledge and recognition so vital in her quest for longevity in an industry with so many highs and lows.
Working at various types of venues either with band or solo throughout SA and Vic has seen Tiffney's repertoire grow to cater for all ages and tastes and includes styles of music ranging from Country, Rock, Ballad and 60/40, A new dimension to her performance repertoire has seen her join with fellow South Australian Candy Latham to present to the public another side of this gifted entertainer. Premiering at the Willaston CMC early in 2009, Tiffney's strong vocal ability combined with Candy's amazing harmonies has proven a great success with bookings well into 2010.
Currently finishing Year 12 and working part time, Tiffney is now collaborating with Chris Cunningham of Studio 28 to produce 'It's Not Easy', for release during 2010. The CD will feature all of Tiffneys' original material and is geared to appeal to both young and old.
To attain these achievements in such a short period of time is not only acknowledgement of her talent but also of her commitment and dedication to her career and country music in this state. The challenges facing this young lady only make her stronger and more determined than ever to succeed in the country music genre.
To Tiffney, music is a way of not only expressing your feelings, but giving of yourself in every song.
Achievements…….
My achievements in competition are varied and many, I have decided not to list them in order but to supply an overview. As you will see, I have given everything I could over this time to learning, creating avenues and opportunities to enhance my natural ability. I intend to continue learning, travelling and taking advantage of every opportunity presented to me in the pursuit of excellence and longevity in the Country Music Industry.
In the Country Music genre, I have travelled to many festivals and have always placed in the top 2 in all categories. I have been awarded Senior & Junior Champion of Champions in both South Australia and Victoria. I was awarded the Australian Country Talent Seekers Award in 2006 - the only junior competitor, as well as Overalls in Tamworth (CCMA winter), Parkes, Dapto, Mt Gambier and Dubbo which I again won in 2007. I was awarded the Jnr Title at the NSW Champions in 2006, as well as Overall in Murraylands, Pt Pirie and Pt Augusta.
I travelled to the Gympie Muster in 2007 and was one of the top three to perform onstage in the final alongside Danny Hooper & Liam Brew, which I was to me an amazing achievement as I had come down with a bad dose of tonsillitis during the week preceding.
I have now started entering songwriting competitions and I have placed in the top 3 of the SA Apra Songwriting Competition, was awarded the Stan Coster Memorial Trophy for Songwriting at Manilla, and was awarded the New Talent Songwriting award at the South Australian Country Music Festival.
Outside of the country music genre, I have won the South Australian Search for a Singer, and was second in the South Australian Search for a Star which was an open competition.
Away from competition my achievements as a performer are always of a high standard. I regularly perform full 4 hour shows as a solo/duo and band artist, having formed my own band and a duo. I have performed with South Australia's finest artists as well as national artists such as Tracy Coster, Adam Brand, The McClymonts & James Blundell as their opening performer.
For over 12 months, I entertained passengers cruising the Murray River on the Proud Mary, this was a solo/duo performance in an ' up, close & personal' nature which was a great learning curve as it taught me to interact with an audience and keep their attention.
I now perform on a regular basis at the South Australian Country Music Clubs and after a very successful performance at the St Arnaud Hoedown, have been asked once again to be their festival opening act. I am in negotiation with several Victorian venues for 2010 as well as many confirmed bookings for South Australia.
Tiffney can be contacted by phoning 0429 177 055
MySpace: www.myspace.com/tiffneystrohmusic