Peter has done many walk up performances around the clubs in South Australia.
He was the first artist at he 2003 Hank Williams birthday party at the Highway Inn on Anzac Highway.
From his accent, he must be from England!
More information when supplied.
from the Gawler CM Club May 2011 Newsletter
'Peter Tomlinson has been playing guitar & singing for 50yrs.
Starting in Irish pubs in England he progressed to playing around the world.
He has played Europe and around America where he met up with Porter Wagner and Hank Snow. (corrected from Hank Williams!)
Having travelled on life's merry-go-round for some years Peter is now happy to perform for fun.
If ever you get the chance to hear Peter perform, you won't be disappointed.
Have a chat with him and he will amaze you with the stories he has to tell.
A modest gentleman who could write a book...if he had the time... Article by John Hurst"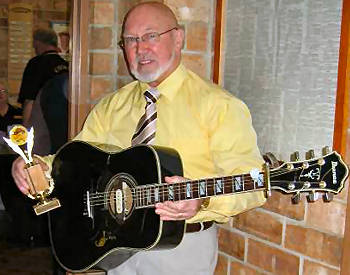 Peter at the
Gawler Country Music Club
July 2006
with his 2nd Prize in the 2006 Barmera Busking competition (Picture from their July Newsletter)