TAMWORTH'S OWN -
BEAR WATERS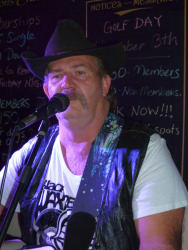 Bear as he is known throughout Australia, has been involved around music since he was 15 years of age, and has shared the stage with the Imortal J.O.K. as well as many other well known Artists such as John Farnham, Olivia Newton John, Anthony Warlow, Adam Brand, Dr Hook, Suzie Quantro,Frankie Davidson, and Dragon, to name just a few.
He has performed at the Gympie Muster now for 27 years now including this year's, and it's lasting friendships that brings him back each year, and he feels pretty blessed to have that. A lover of camping, this type of Festival, is right up his alley. Bear is also a regular at the Tamworth Festival, and has his own stage set up there, as well as having plenty of work in Tamworth, when he is home based.
In his early days his band "Prime Suspects' came 3rd in the Central Queensland Country Music Club's Band Championships.
Other areas to his credit are Kalgoolie/Boulder, The Torres Straight Islands including Thursday and Badu Islands, Weipa in the far north of Queensland, Mt Isa Irish Club, Gold Coast's Casino, Tasmania Venues, to name just some.
Bear has been a circus performer! The only man in the world to have performed his music inside a cage of Lions and Tigers. Bear says he had to keep his eye out on the Lions, as to them, his guitar looked like a leg of meat!
Bear has been a Soloist now for 20 years, but still enjoys working with bands on the odd occasion, and will never tire of the crowds he entertains, be it Country, Blues, good old Rock and Roll, Comedy or Ballads he loves to perform.
Bear has been an MC and Judge for CMAA, Gympie, Tamworth and Country Round up in Queensland.
He has done promotions for Bundy Rum, Toothy's and XXXX Beer.
He has written and performed Advertising Jingles as well.
He has a great "Stage Personality", relates very well with his audiences, as well as being an excellent Performer with a wonderful voice!
With his CD on board, " Under The Covers", Bear has been touring in 2011, beginning with his first show in Maidenwell Qld, all the way up to Cape York, and shows around Cooktown, Torres Straight Islands, back to Tamworth to the "Hats off to Country" in Tamworth, onto "Gympie Muster" and the Birdsville Races.
Bear is now in Adelaide for 2, maybe 3 months, depending on how his September, October and November bookings go. Bear's DVD "Bear Live Performances" will be available soon.
The first weekend in December he is off to the "Young Cherry Festival" in NSW.
Bear is available for Private, as well as Public Performances: Country; Blues; Rock and Roll; or 60/40 bookings. Mob: 0428 620 201 Email: bearmusicman@hotmail.com