Talia Wittmann

Plus a MySpace Site
Talia Wittmann – Toyota Star Maker 2008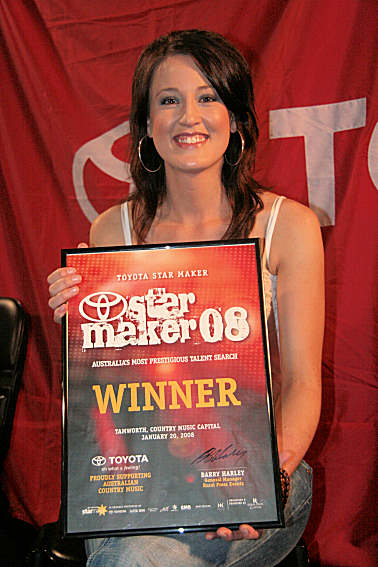 picture from Cheryl Byrnes of Capital News
Talia Wittmann's 'The Reckless Side Of Me' – Talia's debut single to hit radio next week and the accompanying video clip will air on CMC.
Oh what a winner!

Verdun, South Australia, musician Talia Wittmann has taken the crown as winner of the Toyota Star Maker 2008 competition, Australia's oldest and most successful country music talent search.

Twenty finalists were whittled down to a grand final six in Tamworth, Australia's Country Music Capital, today with many competitors already considered as established performers in their own right.

Talia said she is excited by the prospects that lie ahead.

"It's an amazing feeling to be awarded a prize that has started the careers of some of the biggest names in country music," she said. "It's a huge opportunity and I intend to make the most of it."

The only South Australian finalist of the contest, Talia graduated in 2007 from the Australian College of Country Music. She grew up on her parent's property with a love of dancing, horses… and motorbikes.

Always fun-loving, Talia quickly turned her attention to music in primary school, where she began guitar and singing lessons, entering local talent quests along the way. At 18, and in her final year of school, Talia released her first recorded EP.

Toyota Star Maker has been a major stepping stone in the careers of country music legends including James Blundell, Beccy Cole, Gina Jeffreys, Lee Kernaghan and Keith Urban. Many others have gone on to establish successful careers in the music business.

All 20 finalists performed at the event and were joined by Toyota Star Maker 2007 winner Kirsty Lee Akers, who this year has two finalist nominations in the 2008 Country Music Awards of Australia (or Golden Guitar Awards).

General Manager of Rural Press Events Barry Harley said the quality of performers in Toyota Star Maker continued to grow, in line with interest in the event.

"It's difficult to believe that the event is heading into its 30th year and still continually manages to take country music to new heights. Toyota Star Maker continues to set the benchmark in showcasing Australian country music's best new talent," he said.

"Last year's winner, Kirsty Lee Akers, has made fantastic use of this opportunity and I have no doubt that Talia will do the same."

Toyota's Manager of Promotions and Event Management Wayne Gabriel said the finalists were of an extremely high standard and were all to be congratulated.

"The success of previous Star Maker winners has no doubt provided motivation for many of our finalists today," he said. "The title, as well as the prize package, provides Talia with everything she needs to kick start her career in 2008.

"The quality of the performances was excellent and all finalists have spent an incredible amount of time fine-tuning what they presented. The judges certainly had a tough job and I don't envy them."

The Toyota Star Maker 2008 prize package is bigger and better than ever and includes:

Use of the title Toyota Star Maker 2008;
A big-budget full album recording session with one of Australia's top producers;
A record contract with Compass Brothers Records;
Distribution and promotion of at least two tracks from the album to radio and other media;
50 copies of the album for personal distribution;
Production of a video clip of one of the tracks by an award-winning director;
Media promotion including monthly exposure in Country Music Capital News;
Guaranteed bookings at a designated list of events including country music festivals in Tamworth, Gympie, Caboolture, Perth, Queensland's Mud Bulls & Music Festival and Penrith's Museum of Fire Truck Show;
A new HK Personal Portable Amplifier (PPA);
A Maton acoustic guitar;
Full-colour posters;
Management support from Face The Music;
Representation by Artist Network;
A showcase performance at the Toyota Star Maker Grand Final in 2009; and
Use of a fully-serviced Toyota motor vehicle and petrol card for the 12 months following the award.

For more information on Toyota's commitment to the Tamworth Country Music Festival and other events please visit: www.toyotacountryclub.com.au.
The above from Capital News Jan 20 2008
Talia Alana Wittmann was born November 23rd 1984 in Adelaide, South Australia. She is the youngest of four children. Talia's father Manfred immigrated to Australia with his family in 1953 from Germany and Talia's mother Rosalee was born in Australia. Talia has two sisters Sasha and Shana and a brother Karl. Talia grew up in the small town of Verdun in the Adelaide Hills on her parent's property. Talia's interests as a child included dancing, playing sport, riding horses and motorbikes.
During primary school Talia also took up Singing and Guitar lessons and competed in various talent quests winning various placings.
In 1998 Talia commenced her high school education at Modbury High where she studied subjects like biology, chemistry and geography, achieving an amazing tertiary entrance rank of 95.05. At the year 12 prize giving assembly Talia was awarded the Subject Prize for PES Geography and also finished the assembly off with a terrific solo singing performance. . Whilst in her final year of high school, Talia began recording and at the age of eighteen Talia released her first EP.
In 2003 Talia completed certificate III in music at TAFE and began to concentrate solely on her music. She went on to study a bachelor of music by correspondence for twelve months through the Mackay Conservatorium of music and then moved to Mackey for a further semester of study on campus.
Whilst studying Talia was working various jobs to support her musical career such as a customer service assistance for a jewellery wholesaler, working behind bars, child care assistant and working the local pub and festival scene with her band or as a duo.
Talia placed third in the Tamworth 2005 busking championships out of over five hundred entries and won the 2006 Rockhampton Telstra Road to Tamworth heat. Most recently Talia Graduated from the Australian College of Country Music! Talia is currently back in Adelaide performing with her band Overdrive and concentrating on writing more original material for a new CD.
Contact Talia:
management@taliawittmann.com
www.compassbrothers.com.au