The Blackhats have been playing around Adelaide since the hottest club in town was the Twenty Plus club, even though it didn't serve a drop of alcohol. Back then the Octogen was rocking, the Castle Hotel really had a castle and the Adelaide bands were leading the Australian music scene. They played in a number of bands during the sixties and hey, these guys can even remember some of those times. Playing together over the years has given Dave, Rocky, Ned and Jim the skills to entertain and keep a crowd dancing throughout the night. Usually playing music with a country flavour they are not afraid to keep the crowd on side by adding a bit of rock or pop music to the repertoire.
The band members are:
Dave Verrall
Dave is a one of our hardest working musicians and has carved out a reputation through his performances as an award winning singer and songwriter. Born and bred in the Mallee Dave writes about his experiences living in the country regions along the Murray. Dave and is well known and respected from his years of performing and living in the Riverland area of South Australia and has recorded several CD's of original songs. A prolific songwriter, Dave has chronicled his life and the stories gathered during his travels throughout Australia. Typically Australian, Dave's song always come from the heart and paint a vivid picture of the many aspects of Australian life. Dave has received a number of singing and songwriting awards during his years of contribution to the SA Country music scene.
Peter "Rocky" Datson
One of Adelaide's most in demand percussionists, Rocky is always studying and striving to provide that perfect blend of rhythm and sound to provide the solid beat structure for the band. Rocky's singing skills complement the vocal style of the band and he has been known to take the lead singing role on occasion. Rocky is the only member of the band who doesn't frown on requests for drum solos, but then again does any drummer? Some of Rocky's best work was with such bands as the Cardinals, Chantry Lane, Ram, the Stovepipes, the Potbellies and the Foottappers. "Rocky" by name - always rockin by nature.
Barrie Hocking on Lead guitar - Barry joined the band mid June 2016.
Jim Roberts
Jim is a musician with a broad taste in music. Jim's technique of providing the foundation bass line for the Blackhat music combines perfectly with the rhythmic contribution of Rocky's drumming. Jim's favorite song has always been "Mr Bass Man" and it still is - why not?, he's dedicated bass man giving his all to the music of the Blackhats.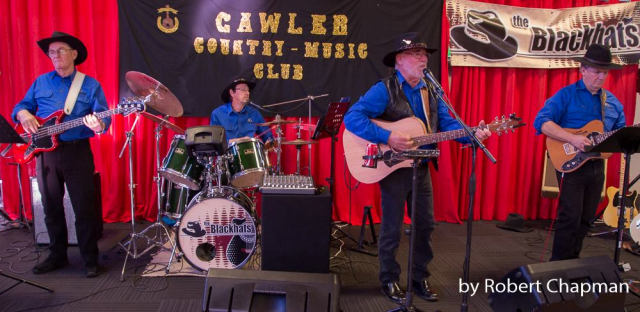 The Blackhats at the Gawler CM Club June 2016 photo by Rob Chapman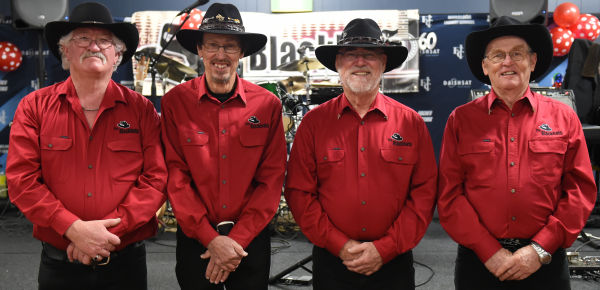 Trevor, Rocky, Dave and Jim in 2015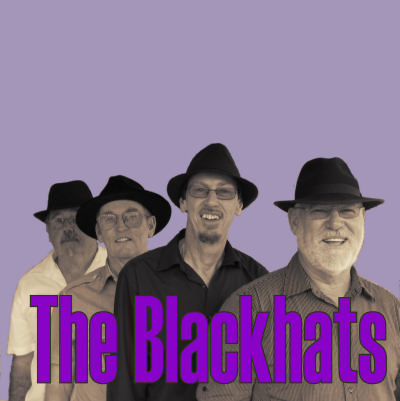 Ned, Jim, Rocky and Dave
Contacts:-
Dave 0400 719 112
They have a MySpace page here