Dave is a one of our hardest working musicians and has carved out a reputation through his performances as an award winning singer and songwriter.
Born and bred in the Mallee Dave writes about his experiences living in the country regions along the Murray.
Dave and is well known and respected from his years of performing and living in the Riverland area of South Australia and has recorded several CD's of original songs. A prolific songwriter, Dave has chronicled his life and the stories gathered during his travels throughout Australia. Typically Australian, Dave's song always come from the heart and paint a vivid picture of the many aspects of Australian life.
Dave has received a number of singing and songwriting awards during his years of contribution to the SA Country music scene.
The Blackhats is the current band Dave is in.
Contact:- 0400 719 112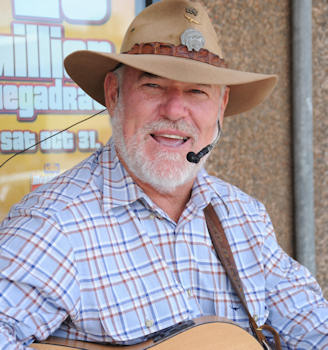 Busking at Port Pirie Oct 2009