GOOD COMPANY
Good Company is a new band on the block. Individually the members of the band have a wealth of experience, having played in many local bands, but it is only recently that this line up has come together as a country band! The band members are:-
Bob Doherty - founder of the group, lead vocals and keyboard. Bob was previously lead vocalist in such bands as Stepping Out, Rockin' The Jukebox and 3's A Crowd, and has won male vocal and duo awards in the Golden Oldies section at the Pt Pirie Festival in the past two or three years.
Julia Williams - vocals.
Young Howard often joins them on drums.
Malcolm Hammond is also a frequent member of the band.
Contact:- Bob on 0422 037 412
Bob and Julie appear as the Good Company Duo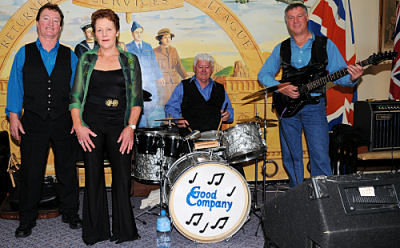 Bob, Julia, Howard and Malcolm at the Kilburn Club Aug 2008