Rocky Page (b: 1928 / d:1997)
Rocky's Early Years
Dean "Rocky" Page was born at Kadina on May 10, 1928.
Rocky's parents had a mixed farm and in 1932 his father passed away and the family moved to a dairy farm at Wallaroo. Rocky helped with the milking before and after school.
Rocky volunteered for all the circuses and travelling concert shows in the hope of getting a ticket to the show. In 1939 his mother moved to Crafers in the Adelaide Hills where Rocky completed his education.
Rocky's step father, George Westly, was a talented musician on the button accordion and mouth organ and taught Rocky to play these instruments.
Wilf Carter, Tex Morton and the Carter Family were being played on Radio in request programmes and where a great influence to Rocky. At this time Rocky was also introduced to hypnosis and he spent many years studying the mind. Although hypnosis was frowned upon, he presented hypnosis in many theatres around Australia.
Rocky's first job was delivering meat and mail around the Adelaide Hills on horseback - rain, hail or shine.
The 1940's
It was in the early 1940's that Rocky met great radio personality, Uncle Bert Wooley, who gave him a guitar he brought back from France and taught Rocky to play. Bert was a fine entertainer. Rocky and Bert performed in many shows around Adelaide.
In the late 1940's Rocky appeared on many radio stations, Mel Cameron's Radio Canteen 5DN, Bob Fricker's Mountain Music 5AD, The Tivoli Shows and Good Friday Appeals.
Rocky made his first custom record in 1947 at 5AD. He also taught music at the Adelaide College of Music.
The 1950's
In 1951 he moved to Berri and continued to teach for the Adelaide College of Music. Every Riverland town and charity organisation benefited by the "Rocky Page School of Music Shows".
In 1956 Rocky and Family toured with Stan and Kitty Gill around Australia in their rodeo and circus. Rocky was billed as the "Singing Cowboy Hypnotist Extraordinaire".
At the close of this tour in Melbourne, Rocky met Les Partel and as partners had many joint ventures in show business and recorded as the Whitman Brothers.
Rocky appeared on television in Melbourne many times on Channels 9 & 7 and on Radio 3DB. The Rocky Page Show was playing to packed houses everywhere, with top artists, Tex Barnes, Ian Castles, Les Partel, Isobel Denmead and Ken Warne.
However, with the colder Melbourne weather Rocky had pneumonia and bronchitis and so it was back to the warmer weather of the Riverland.
Rocky then opened a music shop and music school.
In 1957 Rocky had a weekly radio programme that played on 5RM (Berri), 3TR (Sale), 3CV (Maryborough) and 7HT (Hobart).
The 1960's
In 1961 Rocky undertook a two month tour in Tasmania with the Slim Dusty Show and Rocky recorded for Hadley Records in Launceston with Slim, Joy and Barry Thornton backing.
The next six years Rocky spent working with Frank Foster on most capital city show grounds with great artists such as Lonnie Lee, Slim Dusty, Chad Morgan, Lionel Long, Johnny Chester, Johnny Devlin, Johnny O'Keefe and Normie Rowe.
In early 1967 Rocky performed a lightening tour with the Johnny Young Spectacular. Later that year Rocky joined the Slim Dusty Show for a complete tour of Australia which in Rocky's own words were very happy and exciting times.
In 1968 Rock again toured with Slim and Joy with regular appearances on Reg Lindsay's Country and Western Hour television show in Adelaide.
The 1970's
In 1971 Rocky organised and started the very successful Berri Rodeo.
In 1978 Rocky rode a horse to Darwin putting on numerous shows to raise funds for Apex Help A Kid Make It Appeal and raided in excess of $10,000. The rides and shows took some four months to complete.
Also in 1978 the first South Australian Country Music Awards were conducted following the Berri Rodeo.
Rocky's Final Years
Over the next 20 years, Rocky continued to organise and promote the South Australian Country Music Awards and was instrumental in establishing the Festival which is now part of a ten days of Country Music in the Riverland.
Rocky's health was not always the best and after a long battle with Motor Neuron Disease, Rocky lost the battle against the disease in 1997.
Rocky Page Honours
1976: Radio 5RM Service to Youth Award
1977: The First Riverland Citizen of the Year
1978: Riverland Special Citizen of the Year
1983: Dedication to County Music SA Award
1983: Australasian County Music Award (Tamworth)
1988: Riverland Tourism Award - Outstanding Contribution by an Individual
1990: Industry Award Adelaide Country Music Club
1990: Received the Order of Australia Medal - OAM
1991: Songwriters Tex Morton Award (Tamworth)
1995: Lions Club Award (Tamworth)
1995: South Australian Music Industry Award - SAMIA
1995: Rotary Award
1996: Service to Council - District of Barmera
1997: Special Award Riverland Country Music Festival
1997: Broadcasters Hall of Fame - ACMF (Tamworth)
1998: Roll of Renown (Tamworth)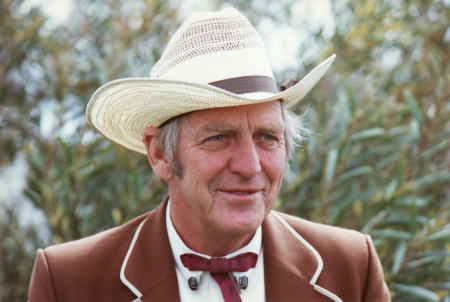 Picture by Robyn McIntosh sent by Wally Sparrow